Nationwide, almost 3 out of 4 Veterans who die by suicide (71%) use a firearm¹. It is much more common for male Veterans (72%) than female Veterans (48%); however, use of firearms for suicide among female Veterans has increased 11 percentage points over the past two decades.1 Because of the high lethality of suicide attempts by firearms, more needs to be understood about the context of these deaths in order to prevent future Veteran suicides from happening.
Stop Soldier Suicide used data from the 2019 National Violent Death Reporting System to better understand the attributes and life circumstances of Veterans who died by suicide using firearms (see Exhibit 1)².
82% of Veterans using a firearm died in their home. This is higher than those not using a firearm (75%).

The most common life circumstance among Veterans who die by suicide using a firearm was existing physical health problems (44%). This was almost twice as common compared to those who did not use a firearm (23%).

Known current mental health problems were present in only 39% of Veterans who died using a firearm, but 53% of those not using a firearm.

Veterans using a firearm also had a much lower prevalence of ever being treated for a mental health problem, current treatment for mental illness, history of suicide attempts, and other known substance use problems compared to Veterans not using a firearm.
With such high levels of firearm-related suicides in the home, there need to be continued efforts to improve safe storage and accountable access of firearms in the home.
Firearm-related suicide prevention efforts in the Veteran serving community need to help Veterans who are struggling with their physical health as well as their mental health.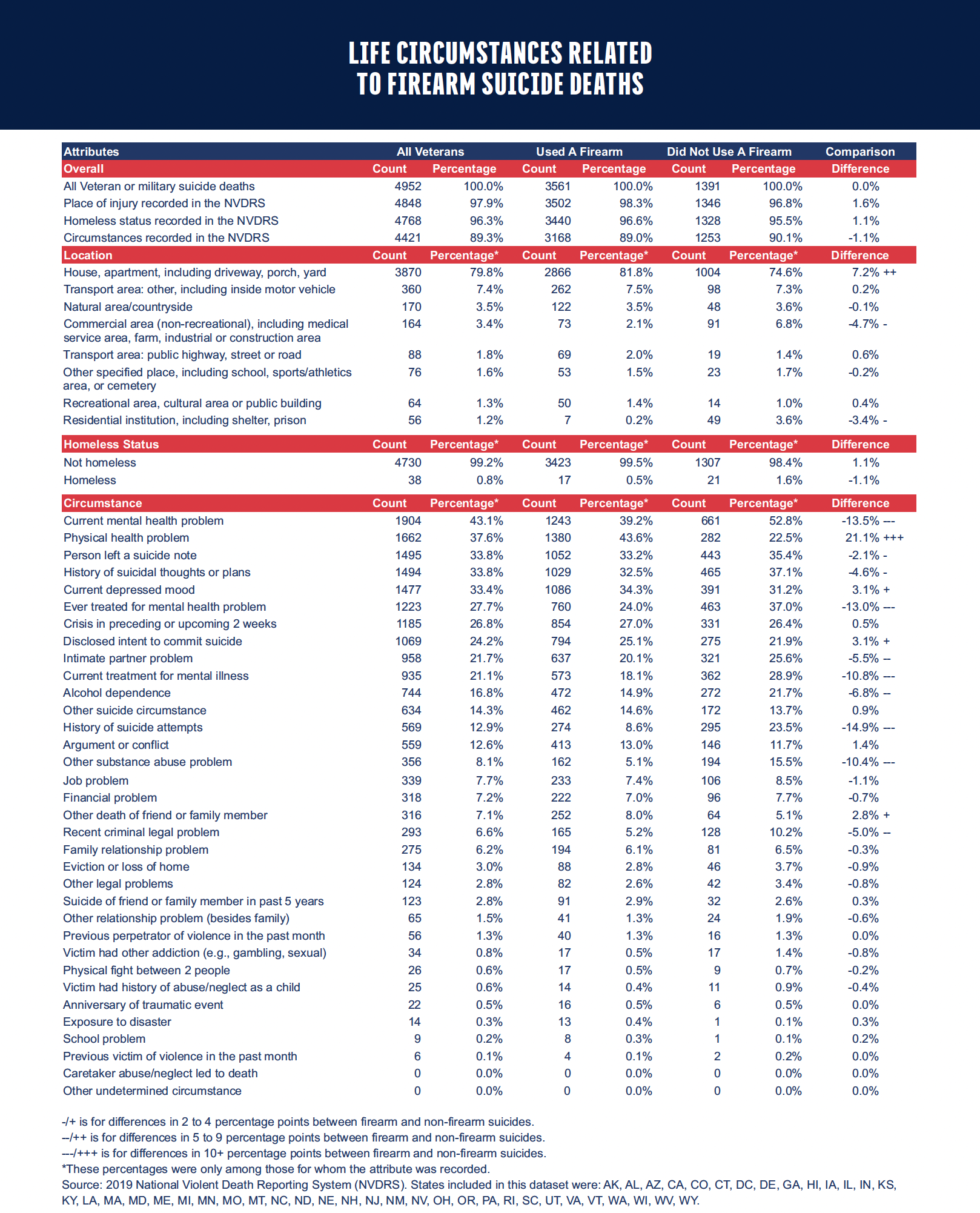 ¹ U.S. Department of Veterans Affairs, Office of Mental Health and Suicide Prevention. 2022 National Veteran Suicide Prevention Annual Report. 2022. Retrieved November 2, 2022 from https://www.mentalhealth.va.gov/suicide_prevention/data.asp.
² 2019 National Violent Death Reporting System. Online analysis: https://wisqars.cdc.gov/nvdrs/.
Suggested citation: Batten, S., Hotle, R.A., Richardson, J.S. (2022). "Life Circumstances Related to Firearm Suicide Deaths." Retrieved Month Date, Year from www.stopsoldiersuicide.org/research.