Stop Soldier Suicide delivered critical PTSD messaging to 28MM Americans to shift mental health attitudes during PTSD Awareness Month

In 2022, Meta provided ad credits ahead of PTSD Awareness Month in June for Stop Soldier Suicide to develop a campaign to reach a broad audience with critical mental health messaging on Facebook and Instagram.
The campaign was part of SSS's PTSD Awareness Month effort in 2022 in which we partnered with Meta to launch a national digital campaign targeted at increasing awareness of PTSD's impact on veterans and service members. Meta provided $300k in ad credits designed to inform the general public about PTSD, including where to access expert resources, via Facebook and Instagram.


This campaign served as an essential first step to encourage everyday Americans to become catalysts of change for their families and communities. Serving more than 28 million Americans across two platforms, the campaign saw significant shifts in attitudes and help-seeking behaviors as it relates to PTSD.
CHALLENGE
PTSD Awareness Month is a U.S. cultural moment recognized every June by mental health organizations and communities designed to bring attention to the roughly 13 million Americans who experience PTSD annually.
Not everyone who experiences a traumatic event will develop PTSD. But for those that do, PTSD is associated with elevated risk for several psychiatric conditions and suicidality.
Research indicates that 87% of veterans were potentially exposed to traumatic events during their service, regardless of their combat experience. PTSD is 3x more likely among veterans who have deployed, and recent Department of Veterans Affairs data shows that PTSD is most prevalent in Operation Iraqi Freedom and Operation Enduring Freedom veterans at a rate of approximately 30 percent. In short, PTSD is quite insidious for the military community.

This campaign sought to understand existing thoughts and behaviors related to PTSD, inform the public about its impacts on the military community, and ultimately offer resources where veterans and service members could seek help.


SOLUTION & CONTENT
Stop Soldier Suicide approached this challenge by developing a Meta advertising campaign consisting of a two-pronged campaign strategy. The first campaign delivered educational PTSD content through a Brand Awareness campaign, followed by a second campaign that drove Engagement on Facebook and Instagram posts.
The content of the campaign focused on the factual and emotional impacts of PTSD utilizing six different creative assets. Images were selected of uniformed service members to quickly identify our military affiliation. The copywriting and design of each asset were grounded in factual information given in a hopeful manner.
To measure the impact of this content's ability to shift mental health thoughts and behavior, Stop Soldier Suicide worked with Meta to create custom brand lift studies. These tests helped Stop Soldier Suicide understand the incremental effect of Meta ads by delivering randomized survey poll questions to Facebook users. The brand lift study then used statistical modeling to determine people's attitudes towards key help-seeking behaviors relevant to PTSD awareness by comparing the difference between people who saw and did not see PTSD content from Stop Soldier Suicide.
The intent was to understand how to use Meta's platforms in conjunction with Stop Soldier Suicide's content to bring awareness to PTSD's impact on the military community to ultimately shift attitudes and behaviors surrounding the topic.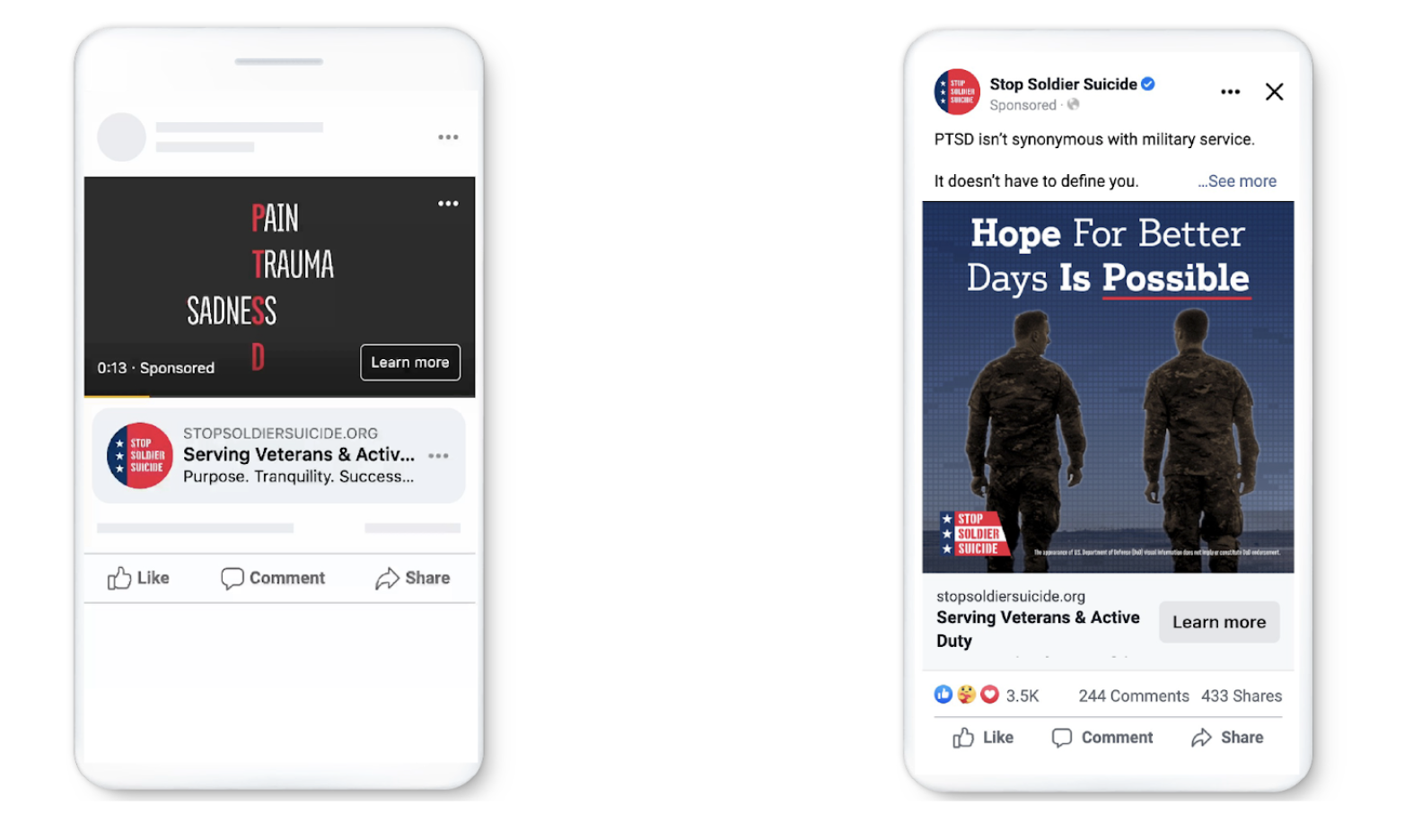 IMPACT
The two campaigns reached more than 28 million people, with 109 million impressions on Facebook and Instagram. The ads drove over 44,000 landing page views and 12.8 million individual engagements, including likes, comments, and more than 5,000 shares.

On average, each brand lift question received approximately 1000-2000 individual voluntary responses that were delivered at random to people on Facebook feed.



The campaign drove traffic directly to the Stop Soldier Suicide resources landing page, where the audience could learn more about PTSD and other suicide risks to service members. This page saw a 1,600% increase in traffic during the duration of the campaign.
The brand lift, as aforementioned, surveyed both people who saw Stop Soldier Suicide's content and who did not in an effort to identify statistically significant changes in mental health thoughts and attitudes about PTSD.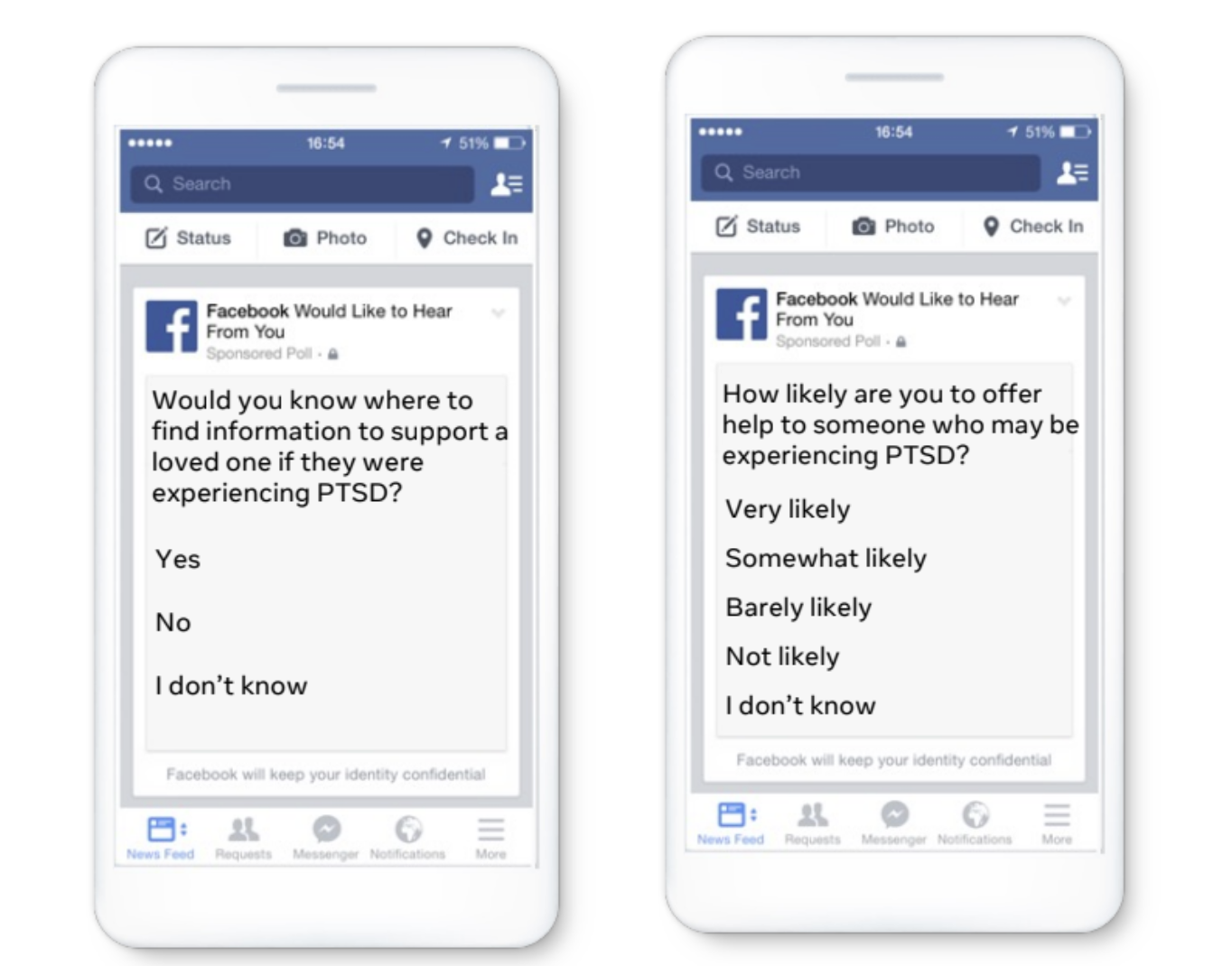 On average, each brand lift question received approximately 1000-2000 individual voluntary responses that were delivered at random to people on Facebook feed.


Between both objectives, at least 509,000 people are estimated to have shifted attitudes toward key help-seeking behaviors because of this campaign. These outcomes are meaningful because both campaigns achieved statistically significant increases of positive responses in critical help-seeking questions.


For example, positive performance was seen across resource knowledge as a brand lift survey question inquired "Would you know where to find information to support a loved one if they were experiencing PTSD?" The study found indicated a significant increase of people who responded 'Yes' in the test group compared to the control group which were not exposed to PTSD content from Stop Soldier Suicide.
The audience also saw a significant increase in the likelihood to help someone with PTSD after being shown educational content.
Through this anonymized survey, Stop Soldier Suicide was able to understand their successful influence on audience knowledge and behavior about PTSD. The largest positive lift in response was observed among females aged 25-34 for the resource knowledge questions and among males aged 25-34 for the likelihood question.
In short, this campaign proved shifting attitudes and behaviors about PTSD is possible through our educational and emotional content that empowers people with a better understanding of what to look for and where to turn.