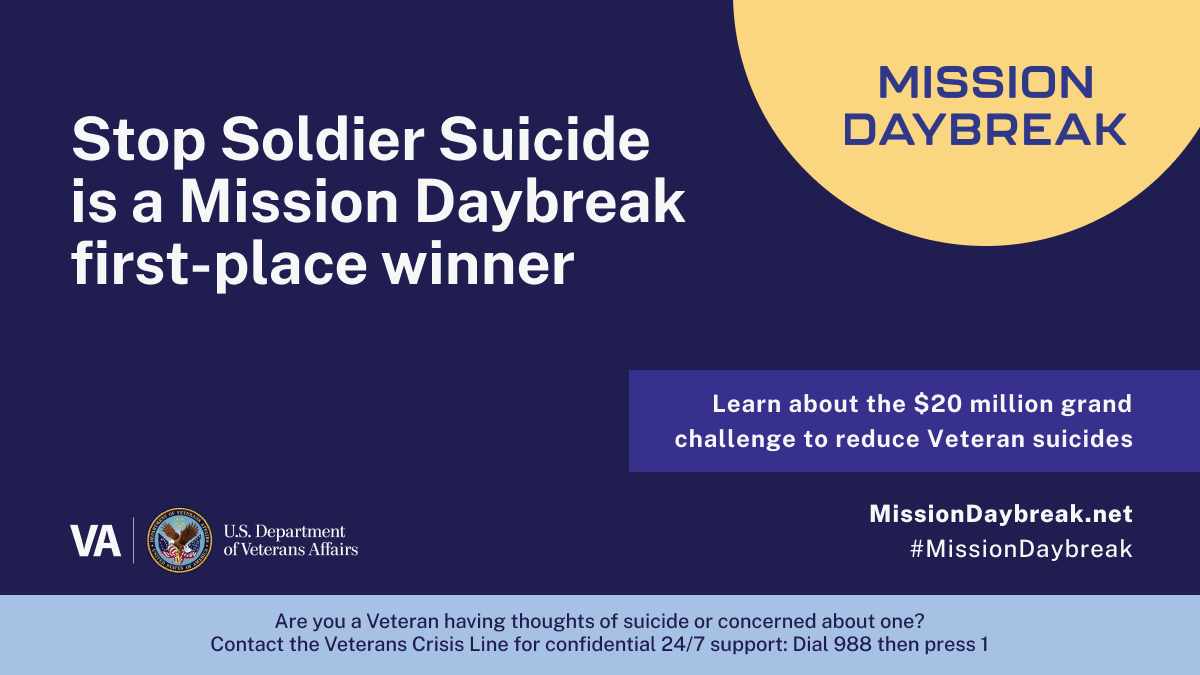 WASHINGTON, D.C. [February 16, 2023] - Stop Soldier Suicide has been named a first-place winner in the Mission Daybreak grand challenge by the U.S. Department of Veterans Affairs, which announced the results of the months-long competition on Thursday.
A $20 million challenge designed to develop and accelerate new Veteran suicide prevention solutions, Mission Daybreak received more than 1,300 submissions. SSS was named one of 10 winners overall, and one of just two first-place winners from that group. As a first-place winner, Stop Soldier Suicide (SSS) has earned a $3 million award.
Stop Soldier Suicide's winning solution, Black Box Project, is a pioneering innovation that that leverages artificial intelligence, namely machine learning, to redefine our understanding of suicide risk among Veterans.
"We're incredibly honored to receive this landmark award, which builds on VA's long history of advancing health innovation," Stop Soldier Suicide CEO Chris Ford said. "Together, Stop Soldier Suicide, VA, and the other outstanding awardees will advance our nation's efforts to dramatically reduce the Veteran suicide rate this decade.
"This initial $3 million investment by VA into Black Box Project is seed funding toward meeting the $10 million need we've identified as necessary to fully operationalize the project and start to redefine how we understand and act on suicide risk."
Without individual-level, real-world data on how to reach suicidal Veterans in their last days, weeks, and months, current prevention efforts will continue to fall short. Black Box Project will bridge those gaps by not only producing never-before-known insights that inform risk-level assessment based on digital behaviors, but also by reimagining methods of outreach and care that will advance the field of suicide prevention as a whole.
Black Box Project uses best-in-class forensic tools to extract data from digital devices entrusted to SSS by surviving family members of Veterans who died by suicide (after data extraction, devices are returned intact to survivors). Machine learning techniques are then used to build models to predict both the "who" and "when" for identifying Veterans at greatest risk for suicide.
The ability to find such signals, which haven't been previously identified, will enable Stop Soldier Suicide to reimagine methods of high-risk outreach and care in order to save Veteran lives at scale. Further sharing of those insights with the larger Veteran-serving community will, in turn, lead to advancement of the suicide prevention field as a whole.
From May to July 2022, Phase 1 of the Mission Daybreak grand challenge received 1,371 concept submissions from solvers that included Veterans, Veteran service organizations (VSOs), community-based organizations, health tech companies, startups, and universities. Multidisciplinary panels of reviewers and judges assessed submissions according to the evaluation criteria.
Following Phase 1, Stop Soldier Suicide was named one of the 30 challenge finalists that each received $250,000 and advanced to the Phase 2 virtual accelerator program, which helped them develop ambitious but achievable roadmaps for prototyping, iteration, testing, and evaluation. Technology partners supporting the accelerator included Amazon and Microsoft. In November 2022, finalists had the opportunity to speak about their solutions with challenge judges and representatives from VA, Veteran Service Organizations, Capitol Hill, and policy institutes at Demo Day, held at the Samsung Executive Briefing Center in Washington, D.C.
The multidisciplinary judging panel — representing a diversity of perspectives, from Veterans and clinicians to social workers and technical experts — evaluated submissions from the 30 finalists in Phase 2. The panel recommended the 10 winners based on the official evaluation criteria.
To learn more about Black Box Project and Stop Soldier Suicide's challenge-winning innovation, please visit StopSoldierSuicide.org/MissionDaybreak.
For more information on device donation and the Black Box Project process, please visit StopSoldierSuicide.org/BlackBoxProject.
For more information on the Mission Daybreak grand challenge, please visit MissionDaybreak.net.